Contact
Enke Spänkuch
Studierendenhaus (SH) 2/220
+49 (0)234 32 23818
enke.spaenkuch@rub.de
Office hours: by appointment

Tandem Office
Studierendenhaus (SH) 2/211
Tel +49 (0)234 32-25189
zfa-tandem@rub.de

Office Hours
Tuesday: 10:00 – 16:00
Wednesday: 13:00 – 17:00
Thursday: 10:00 – 14:00

Sprachcafé
Practice different languages at the "Sprachcafé" – Language Practice Meet Up, every Monday during the semester from 5pm to 9pm at the Max-Kade-Hall, Laerholzstraße 82, Bochum.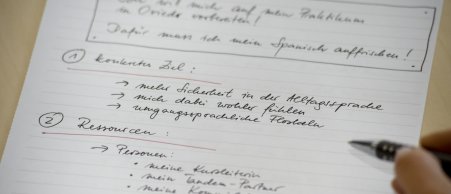 Individualised Learning
ZFA offers, in addition to a range of courses, the following modules of individualized, self-directed language learning opportunities.
Tandem consists of two people with two different language backgrounds working together. They help each other achieve their desired competencies in their target language. For example, if your native language is German and you wish to refresh your Spanish, then you could work with a Spanish or Latin-American Spanish speaking partner, who wishes to learn German. Tandem learners make their own decisions in regard to their learning. Tandem is a prototype for self-directed and individualized learning.
This module addresses learners with specific needs and limited availability of time, i.e., an employee of RUB, guest researchers or graduate students, whose different learning backgrounds require tailored solutions. During the first consulting meeting, the learning needs, goals and resources are identified; afterwards a training plan, which takes into account the dynamics of learning processes, is be developed.
This program is available for a fee.
These modules support learners in their individual learning projects. A counselor helps them with concrete recommendations for learning a certain linguistic pattern in a particular foreign language or for developing their learning competency in general. A language learning coach provides them with "help for self-help", namely, focusing on the learner's ability for self-determination and self-direction. Coaching is ultimately aimed at the sustainability of learning.
Wichtige Meldung des ZFA
Sprechstunde am 12. Februar
11.02.2019 (Organisation)
Aus dringenden Gründen muss die Sprechstunde am Dienstag, dem 12. Februar leider entfallen. In dringenden Fällen melden Sie sich bitte unter zfa@rub.de . Wir bitten um Entschuldigung.
Mithilfe von Sprachkursen und dem International Office ins Ausland
23.01.2019 (Organisation)
Am 16.01.2019 erschien in der WAZ ein Artikel über das International Office der RUB. Die beiden Erasmus-Studentinnen Iana Primovici und Jana Henninger haben bei uns erfolgreich mehrere Kurse absolviert. Jana Henninger sagte uns zudem, dass die bei uns belegten Schwedischkurse sie sehr gut auf die Zeit in Schweden vorbereitet haben. Den ganzen Artikel finden Sie hier: Abenteuer leben, in Europa studieren (WAZ Rhein-Ruhr, Mittwoch 16.01.2019)
Anmeldung Kompaktkurse
15.01.2019 (Organisation)
Für die Kompaktkurse des WiSe 18/19 können Sie sich noch per E-Mail an zfa@rub.de nachmelden (gilt nicht für Kompaktkurse Englisch). Bitte senden Sie uns Ihren Kurswunsch, Ihre Matrikelnummer und Informationen zu Ihrem Nachweis (Einstufungstest, abgeschlossener Vorgängernkurs in welchem Semester / Zertifikat vorhanden (bitte Scan anfügen)). Sofern Sie die Voraussetzungen erfüllen melden wir Sie gerne noch an.
Evaluationsergebnisse WiSe 17/18
18.12.2018 (Organisation)
Auch im Wintersemester 17/18 waren Sie wieder sehr zufrieden mit unseren Sprachkursen. Das zeigt sich auch in der Weiterempfehlungsquote von fast 100%! Wir bedanken uns bei Ihnen für Ihr positives Feedback