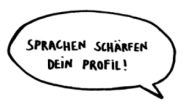 Offered Languages
Currently (state: October 2019) you can acquire the following UNIcert®-Certificates:

Arabic: Basic
(course level A2)

English: Level II and III
(course level B2 and C1)

French: Level I and II
(course level B1 and B2)

Italian: Level I and II
(course level B1 and B2)

Japanese: Level Basic
(course level A2)

Dutch: Level I
(course level B1)

Polish: Level Basis
(course level A2)

Russian: Level Basis and II
(course level A2 and B2)

Schwedish: Level I
(course level B1)

Spanish: Level I and II
(course level B1 and B2)

Turkish: Level Basis
(course level A2)
Formalities
Links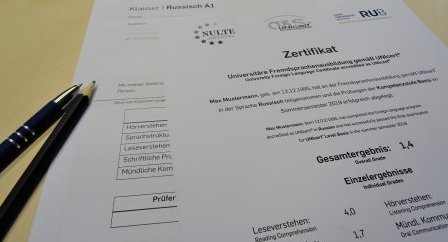 UNIcert® at RUB
UNIcert® is a language testing and certification program that is offered across universities in Germany (homepage). The UNIcert® certificates are recognized throughout Germany and the neighboring countries.

Currently, there are around 50 recognized institutions in Germany which offer UNIcert®. Since September 2018 UNIcert® is part of the Network of University Language Testers in Europe (NULTE) which is formed by further language-test offering institutions from Poland (UNIcert®LUCE and Acert), Spain (CertAcles), France (CLES), the United Kingdom and the Republic of Ireland (UNILANG). They commit themselves to improve academic education and certification of language skills.
Registration for UNIcert® exam
Who?
All students who have completed the training program (preparatory UNIcert® language courses at the ZFA) beforehand. Information about the different levels as well as the terms of participation will be provided by the lecturers. Please check eCampus to learn about the courses currently offered at the ZFA.

When?
The registration period for the current semester lasts from 05 January 2020 to 19 January 2020 .

How can I register?
Please register here within the registration period.

Questions or concerns?
We collected and answered the most frequently asked questions in the attached document at in the side bar. During the registration period we also offer consultation appointments. The exact dates will soon be published on the German website and are communicated in the courses.

Please don't hesitate to contact us via anna.timukova@rub.de for further information.

© CercleS
Reciprocal recognition and control between the testing systems provide the preconditions for professional language testing and offer a European network of language training experts for students.
The certificates can be used when changing a degree course and place of residence or when applying for studies and internships abroad.
What is UNIcert®?

university-specific programme of education and certification for languages - all levels offered by the ZFA are listed in the right column

action-oriented language instruction that can be applied in academic and work contexts (reading and listening comprehension, written and oral production)

in many cases a less expensive alternative to international standardized language tests.
UNIcert® in comparison to other standardized language tests
Content of the UNIcert® program
The purpose of the UNIcert® program is to help students develop the ability to easily manage situations in an academic context in foreign languages and also to provide knowledge about general intercultural problems as well as the specific cultural habits of each country. The program also aims to prepare students for language requirements when starting their own professional or academic career.