Teachers
Courses on Offer
Certification
Tandem
Formalities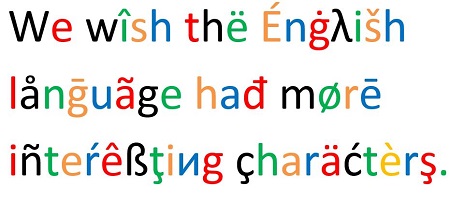 English Courses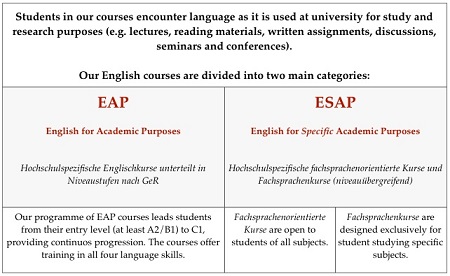 English for Students of Economics: Our Offer in the Summer Semester 2021

The University Language Centre (ZFA) of the RUB offers specialised language courses exclusively for students of the Faculty of Economics (Bachelor and Master) for the following groups:
▪ "Essential English" for students with a placement result of B1/B2 or B2
▪ "Advanced English" for students with a placement result of B2/C1 or C1

More information to our courses offered and to registration can be foun in this Information Sheet.

IELTS is a globally established English language proficiency test for the purpose of work or study. It is accepted and recognised both in Germany and abroad.
read more
Did you know...
Approximately one new word is added to the English language every two hours and around 4,000 new words are added to the English dictionary every year.


Aktuelles aus dem ZFA
03.-04.09.21 Internationale Tagung für italienische Sprache 2021
18.08.2021 (Organisation)
Internationale Tagung für italienische Sprache 2021 Die Tagung wird am 03./04. September vom Zentrum für Fremdsprachenausbildung in Zusammenarbeit mit dem Romanischen Seminar, dem Institut für Romanistik und dem Italien-Zentrum der Technischen Universität Dresden organisiert. Weitere Informationen finden Sie auf der Homepage der Tagung.
Erreichbarkeit des Geschäftszimmers
20.09.2021 (Aktuelles)
Das ZFA bietet aktuell Online-Sprechstunden zu den folgenden Zeiten an: Mo.: 14:00 - 16:00 Uhr Mi.: 10:00 - 12:00 Uhr Der Link zum Chat befindet sich auf der Seite des Geschäftszimmers. Bitte beachten Sie, dass Fragen, die im Chat-Raum gestellt werden, nur zu den oben genannten Zeiten gesehen und beantworten werden. Wir möchten darauf hinweisen, dass wir derzeit telefonisch nur sehr eingeschränkt erreichbar sind und bitten Sie uns eine E-Mail zu schreiben.