Teachers
Courses on Offer
Certification
Tandem
Formalities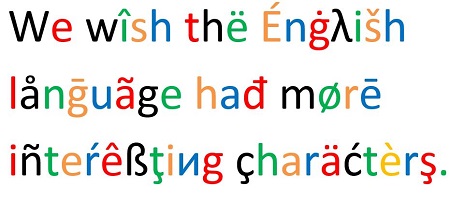 English Courses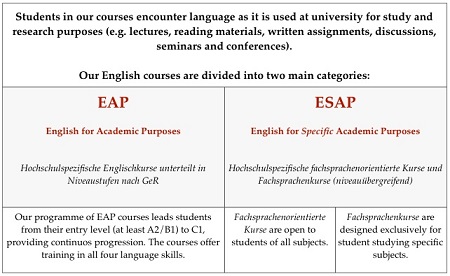 IELTS is a globally established English language proficiency test for the purpose of work or study. It is accepted and recognised both in Germany and abroad.
read more
Did you know...
Approximately one new word is added to the English language every two hours and around 4,000 new words are added to the English dictionary every year.


Aktuelles aus dem ZFA
Sprechstunde am 12. Februar
11.02.2019 (Organisation)
Aus dringenden Gründen muss die Sprechstunde am Dienstag, dem 12. Februar leider entfallen. In dringenden Fällen melden Sie sich bitte unter zfa@rub.de . Wir bitten um Entschuldigung.
Mithilfe von Sprachkursen und dem International Office ins Ausland
23.01.2019 (Organisation)
Am 16.01.2019 erschien in der WAZ ein Artikel über das International Office der RUB. Die beiden Erasmus-Studentinnen Iana Primovici und Jana Henninger haben bei uns erfolgreich mehrere Kurse absolviert. Jana Henninger sagte uns zudem, dass die bei uns belegten Schwedischkurse sie sehr gut auf die Zeit in Schweden vorbereitet haben. Den ganzen Artikel finden Sie hier: Abenteuer leben, in Europa studieren (WAZ Rhein-Ruhr, Mittwoch 16.01.2019)
Anmeldung Kompaktkurse
15.01.2019 (Organisation)
Für die Kompaktkurse des WiSe 18/19 können Sie sich noch per E-Mail an zfa@rub.de nachmelden (gilt nicht für Kompaktkurse Englisch). Bitte senden Sie uns Ihren Kurswunsch, Ihre Matrikelnummer und Informationen zu Ihrem Nachweis (Einstufungstest, abgeschlossener Vorgängernkurs in welchem Semester / Zertifikat vorhanden (bitte Scan anfügen)). Sofern Sie die Voraussetzungen erfüllen melden wir Sie gerne noch an.
Evaluationsergebnisse WiSe 17/18
18.12.2018 (Organisation)
Auch im Wintersemester 17/18 waren Sie wieder sehr zufrieden mit unseren Sprachkursen. Das zeigt sich auch in der Weiterempfehlungsquote von fast 100%! Wir bedanken uns bei Ihnen für Ihr positives Feedback