Teachers
Courses on Offer
Certification
Tandem
Formalities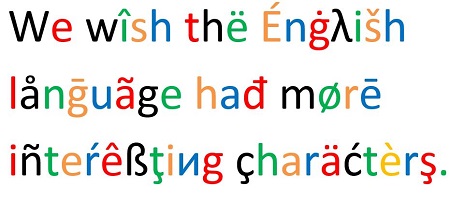 English Courses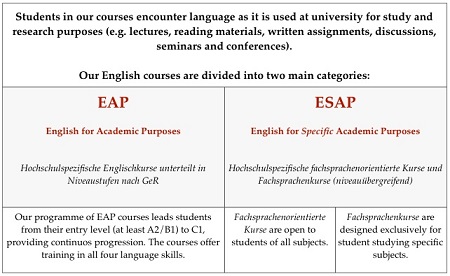 IELTS is a globally established English language proficiency test for the purpose of work or study. It is accepted and recognised both in Germany and abroad.
read more
Did you know...
Approximately one new word is added to the English language every two hours and around 4,000 new words are added to the English dictionary every year.


Aktuelles aus dem ZFA
Universität ohne Grenzen
15.12.2017 (Organisation)
Das ZFA bietet aktuell im Rahmen des Projektes 'Universität ohne Grenzen' und in Zusammenarbeit mit dem International Office zwei spezifische Englischkompaktkurse für geflüchtete Studierende und Studieninteressierte an, die im akademischen Englisch ihre Kompetenzen erweitern möchten. weitere Informationen hier
Anmeldung UNIcert®
06.12.2017 (Organisation)
Vom 10.01.2018 bis 31.01.2018 ist die Anmeldung zur UNIcert®-Prüfung möglich. Weitere Informationen finden Sie auf der Seite UNIcert®.
Weihnachten 2017
20.11.2017 (Organisation)
Das Geschäftszimmer bleibt vom 16.12.2017 bis 07.01.2018 geschlossen. In dieser Zeit werden weder E-Mails noch andere Anfragen beantwortet. Wir wünschen Ihnen frohe Weihnachten und einen guten Rutsch ins neue Jahr!
Bücherbörse
17.11.2017 (Organisation)
Sie haben einen Sprachkurs des ZFA besucht und möchten nun Ihre Kursbücher verkaufen? Oder Sie haben einen Platz in einem unserer Kurse erhalten und sind jetzt auf der Suche nach einem Kursbuch? Dann schauen Sie doch in unserer Bücherbörse vorbei. Sie finden diese im Foyer vor dem Geschäftszimmer des ZFA.