Teachers
Courses on Offer
Certification
Tandem
Formalities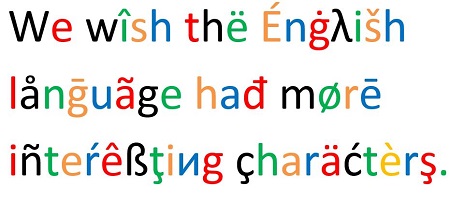 English Courses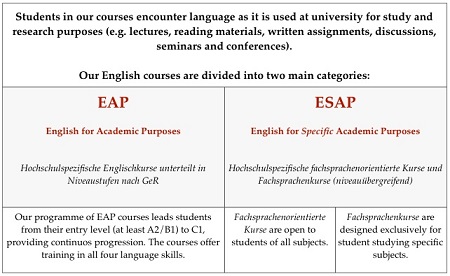 IELTS is a globally established English language proficiency test for the purpose of work or study. It is accepted and recognised both in Germany and abroad.
read more
Did you know...
Approximately one new word is added to the English language every two hours and around 4,000 new words are added to the English dictionary every year.


Aktuelles aus dem ZFA
Klausuranmeldung
20.06.2018 (Organisation)
Bis zum 15.07.2018, 23:59 Uhr ist die Anmeldung zu den Abschlussklausuren im Juli der Sprachkurse des ZFA möglich. Ersthörende der RUB melden sich über CampusOffice an - Externe Teilnehmer schreiben eine E-Mail an das Geschäftszimmer und geben zwigenden folgende Angaben an: genauer Kurstitel und Dozent. In allen Lehrveranstaltungen des ZFA gilt eine Anwesenheitspflicht von 75%. Studierende, die diesen Prozentsatz unterschreiten, können nicht mehr zur Prüfung zugelassen werden und können generell keinen Leistungsnachweis erwerben. Die Nachschreibeklausur ist ein Ausweichtermin für Studierende, welche die Hauptklausur nicht bestanden haben, oder nachweislich krankheitsbedingt verhindert waren. Sollten Sie sich aus anderen Gründen direkt für die Teilnahme an der Nachschreibeklausur entscheiden, beachten Sie bitte, dass es keinen weiteren Klausurtermin geben wird und wir auch keine Einzeltermine anbieten. Bei Fragen wenden Sie sich bitte an das Geschäftszimmer. Die Anmeldeverfahren für die Nachschreibeklausur starten erst nach dem Haupttermin.
Introduction to English for academic purposes
20.06.2018 (Organisation)
Auch in diesem Semester bietet das ZFA in Kooperation mit dem International Office im Rahmen des Projektes "Universität ohne Grenzen" wieder spezielle Englischkurse für Studierende und Studieninteressierte mit einem registrierten Aufenthaltstitel als Flüchtling an: Introduction to English for academic purposes