Teachers
Courses on Offer
Certification
Tandem
Formalities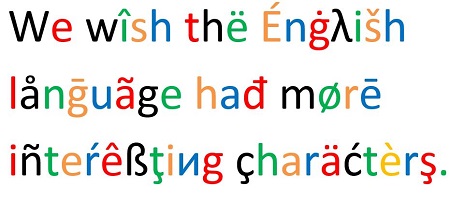 English Courses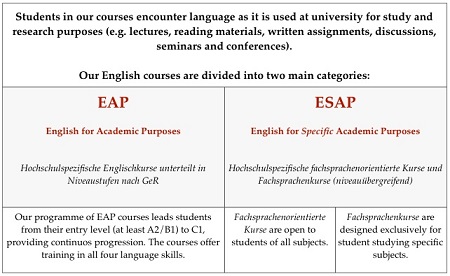 IELTS is a globally established English language proficiency test for the purpose of work or study. It is accepted and recognised both in Germany and abroad.
read more
Did you know...
Approximately one new word is added to the English language every two hours and around 4,000 new words are added to the English dictionary every year.


Aktuelles aus dem ZFA
Klausuranmeldung
29.05.2019 (Organisation)
Anmeldefrist: 01.06. - 04.07.2019, 23:59 Uhr Die Termine sollten Ihnen bereits in der ersten Stunde von Ihrer Dozentin / Ihrem Dozenten genannt worden oder in Moodle hinterlegt sein. Eine Übersicht, sowie weitere wichtige Informationen finden Sie auch auf der Seite Kursabschlussprüfungen.
geänderte Öffnungszeiten
20.05.2019 (Aktuelles)
Aufgrund eines personellen Engpasses kommt es bis auf Weiteres zu Verzögerungen bei der Beantwortung von E-Mails. Wir bitten dies zu entschuldigen. Bitte beachten Sie die ab dem 01.06.2019 geänderten Öffnungszeiten des Geschäftszimmers.
Evaluationsergebnisse Wintersemester 2018/2019
25.03.2019 (Organisation)
Wir möchten Sie gut im Bereich Fremdsprachen ausbilden! Daher führen wir am Ende jedes Semesters in fast allen Veranstaltungen eine studentische Lehrveranstaltungsbewertung durch, um Ihre Meinung zu erfahren. Nun sind die Ergebnisse der Evaluation des Wintersemesters 2018/2019 ausgewertet und online einsehbar. Wir möchten uns bei allen TeilnehmerInnen für die sehr gute Bewertung bedanken! Evaluationsergebnisse Wintersemester 2018/2019