Course catalogue
Click here for the current course program.
Registration as an external participants
Please click here for the course registration as an external parties.
The University Language Centre (ZFA)
The RUB's University Language Centre (ZFA) is the first port of call for all staff and students of the Ruhr University who are interested in learning a foreign language.
We currently offer language courses to students from all faculties in fifteen foreign languages. Our courses come in a variety of formats and are offered throughout the academic year. The ZFA also has a media centre and large pool of learning materials and other resources to help you learn your chosen language -tandem and coaching programmes, tandem courses within Germany and abroad, learning counselling at the start of the semester and much more.

The ZFA is accredited as a test centre for UNIcert®, IELTS, DELE, CNaVT, Tisus, Delf/Dalf and SWEDEX and offers regular sittings test sessions to acquireof the DAAD language certificate (for English).

The ZFA currently offers language courses in the following languages:
Arabic, Chinese, English, French, Italian, Japanese, Dutch, Norwegian, Polish, Portuguese, Russian, Swedish, Spanish, Turkish

In the winter semester of 2015/16 we will be offering a new beginner's course in Modern Greek.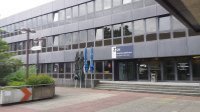 Front Office
Anja Neuhaus, Cristina Schalk and Annika Wermter

Room SH 2/207
Tel.: +49 (0)234 32-28182
zfa@rub.de

Mo 10.00-13.00 Uhr
Mi 12.00-14.30 Uhr
Fr 09.00-12.00 Uhr
Di und Do: geschlossen