Contact
Enke Spänkuch
Studierendenhaus (SH), Room 2/220
Tel +49 (0)234 32 23818
Office hours: by appointment
enke.spaenkuch@rub.de
Example
This example illustrates the service of an ILS: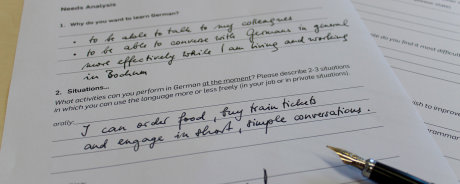 Individual Learning Scenarios (ILS)
Individual Learning Scenarios (ILS) is a personalised (fee-based) language learning service designed for visiting researchers and staff of Ruhr-Universität Bochum (RUB). These learners have very special needs, preferences and goals, while time is a precious resource. The ILS consists of following components
First counselling session:

Together with your Counsellor, you will define your learning intentions and identify your available resources and thereby plan and design your customized Language Learning Project.

Personalised language training which can easily be integrated into everyday life.

Other resources:

These may include language courses, training services focused on deepening particular linguistic skills, a Tandem Language Learning Partnership or offerings of external language proficiency testing providers.

Closing counselling session where you will review your achievements, assessing and evaluating whether you have accomplished your learning goals.

Here are some typical scenarios:

As a visiting scientist to the RUB, you may be interested in learning to communicate in German with your Bochum colleagues at your institute, i.e. you would like to be able to formulate oral or written contributions and messages in meetings and face-to-face encounters.
Also as a visiting scientist to the RUB, you may want to learn to communicate in German with greater fluency in extra-University contexts as well (e.g. in everyday service settings) – even though most of your research will be done in English.
As a doctoral candidate, your main focus during your stay at the University may be on acquiring German reading skills enabling you to understand and assimilate German specialist literature into your work.
You have been appointed professor at the RUB and are required to give lectures in German. You already feel confident about using German specialist language and jargon, but would like to acquire cross-disciplinary speech and discourse abilities that are appropriate for the German academic context.
Please let us know your individual needs by filling in the questionnaire which can be find in the right-hand margin column.. This is the basis for your first counselling session.