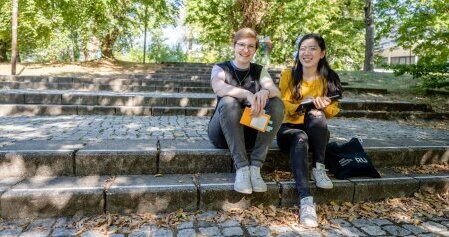 Different settings
There are several different forms of learning in tandem partnerships at the RUB:
In a face-to-face-tandem the tandem language partners individually arrange a time and day to work together.
In group tandem courses up to 25 tandem language partners meet daily for two to three weeks

as a part of a group

. Group tandem courses are part of the courses regularly offered at the ZFA and are organized in cooperation with other universities.
The eTandem provides the opportunity to learn with learners via email (non-simultaneous communication) or via chat, messenger or Skype (simultaneous communication) - individually or in groups (

group

eTandem

courses

).
More information about all group (e)Tandem courses at the ZFA you find here.
Learning in Tandem
You want to learn in a tandem partnership and want to make use of our Tandem Finding Service and support through the tandem team at the RUB. Here you find information about